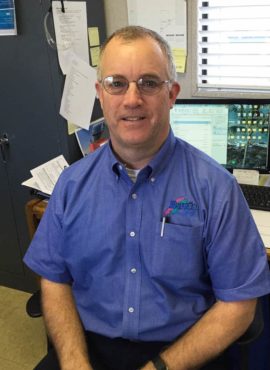 John

Davis
Owner- President
John started Davis Truck Painting in 1982, just wanting to specialize on commercial vehicles. He started out doing all the body and paint work himself and as the business grew he added employee's. Davis Truck Painting now has over 13 employees' and does repair and repaints on about 50 trucks per month.
John enjoys the challenges that the job brings to the business and looks forward to passing the torch to his son Zack Davis.
Teri

Davis
Owner- Vice President
Teri is the Vice President of Davis Truck Painting. She oversees the general operations of the HR and Accounts department including accounts payable, accounts receivable and insurance details. Teri brings with her over 20 years of management and accounting experience
Teri and John continue to build a strong foundation for the continued success of the business.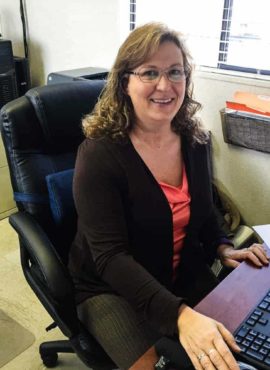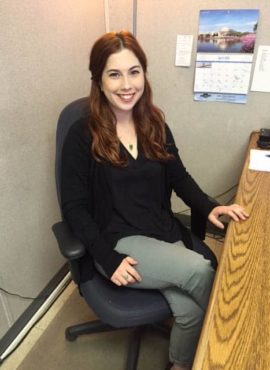 Sam
HR and Accounts Manager
As the HR and Accounts Manager, Sam handles several aspects of the business including accounts payable, accounts receivable and vendor/ customer relations. She also oversees the Human Resource needs of the business including hiring, payroll and insurance.
Sam brings over 10 years of management experience to the team and plans to take over the business with her husband Zack when John and Teri retire. Sam also has a Bachelor's of Science degree from the University of California, Davis in Human Development.
Zack

Davis
Manager/Lead Estimator
As the Manager of Davis Truck Painting, Zack oversees all aspects of the shop to ensure they run smoothly. He puts together estimates for damaged vehicles and custom paint projects for our customers and their insurance carriers.
Zack also handles parts and paint orders for all jobs in the shop. He plans to take over the business when John and Teri retire with his wife Sam. Zack also is currently going to UC Davis for a degree in Music.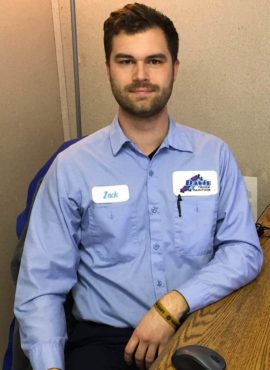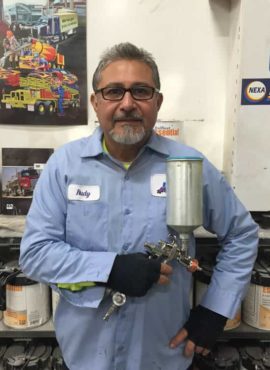 Rudy
Painter
Rudy has been our painter here since 1992. He came to us from another truck shop and has been painting heavy equipment most of his career. Rudy in addition to painting is also the production manager, he is responsible for the flow of work through the shop.
With his morning meeting with all the techs, he keeps the shop running smoothly and the vehicles looking good.
Jerry
Prep
Jerry has been with us since 1990 and his job is to sand and prep the vehicle for paint. He makes sure everything is prepped and ready for paint.
Position: Prep Technician
Since: 1990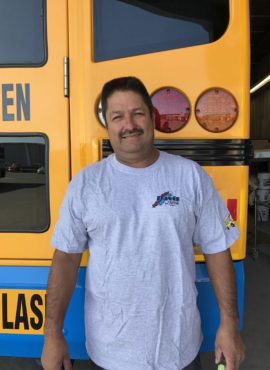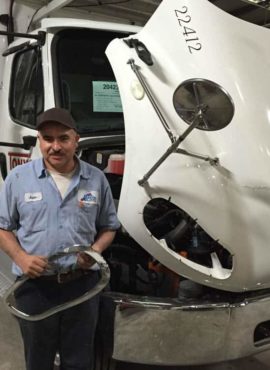 Juan
Repair
Juan has been with us since 1998. He started out as a prep tech and is now a body repair tech. he does fiberglass repairs as well as most body repair. His seventeen years of experience means repairs are done well and as fast as possible.
Position: Body Repair Technician
Since: 1998
Kelly
Sandblasting
Kelly has been with us since 2009. Kelly is our sandblaster, he takes care of getting the vehicles ready to blast by removing parts and pressure washing.
Kelly brings lots of sandblasting experience to his job and is very detailed when it comes to getting all the paint off the surface of the vehicle being blasted.
Position: Sandblasting Technician
Since: 2009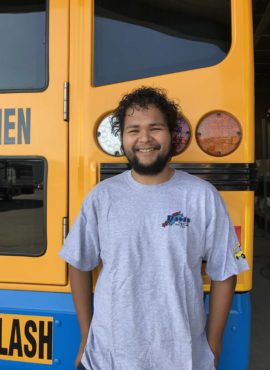 Jose
Paint
Jose has been with us since 2012. He started as a detail person doing color sanding and buffing and he has progressed to a painters assistant. He is showing good potential as a painter and we look forward to him becoming a good painter.
Poisiton: Painter's Assistant
Since: 2012
Riz
Repair
Highly experienced and hard working, Riz rejoined our team in 2017 and has a wealth of knowledge and skills such as welding, fabricating, body and fiberglass repair. His expert knowledge helps drive our team as well as teach and inform our newer tech's about expert repair techniques. 
Position: Bodyman and Fabricator
Since: 2017